金魚花火
Joined: 06 Mar 2007
Posts: 146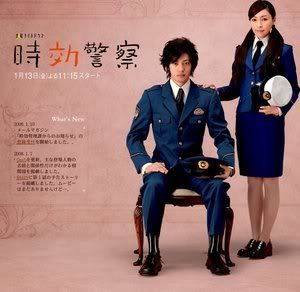 Title: Jikou Keisatsu / 時効警察

Synopsis:
Odagiri plays Kiriyama Shuuichiro who works as an information management officer in the prefectural police station. As he is very observant and has interest in the unresolved cases which have gone past the legal time frame (statute of limitations) i.e. the culprit cannot be charged even if he/she is caught, he investigates the cases without permission with the aim of "confirming" the culprit only. Some charateristics of this character would be his dark green spectacles, his wallet containing 20,000 yen at all times and he likes udon and nyuumen.

Casting:
* Odagiri Joe
* Asou Kumiko
* Toyohara Kosuke
* Fuse Eri
* Eguchi Noriko
* Mitsuishi Ken
* Iwamatsu Ryo

Genre: Mystery
Episodes: 9
Broadcast period: 2006-01-13 to 2006-03-10
Theme songs: Ame by Ceyren
Official site: http://www.tv-asahi.co.jp/jikou/

credits: wiki.d-addicts

-------------------------------------------------------------------

This drama is very funny, each episode has it's own story. But all episodes are part of the whole drama. In each episode one case has to be solved.

The jokes in this drama can be really weird sometimes and not everyone might like these jokes.
Also not everyone might like this drama because in each episode something different happens.
The acting was good, Odagiri Joe did a wonderful job, he played Kiriyama and he was really funny sometimes. He had weird hair and wore glasses. His assistance played by Asou Kumiko also did a good job.