ユメクイ
Joined: 23 Sep 2005
Posts: 1137
Location: USA
AYA is a J-Rock artist that I've recently really gotten to like. Her lastest album, Baghdad Sky has been in my playlist for a while now, and is one of my favorite albums. I thought I would share a little bit about her, and give those of you who haven't heard of her before a chance to discover a new artist.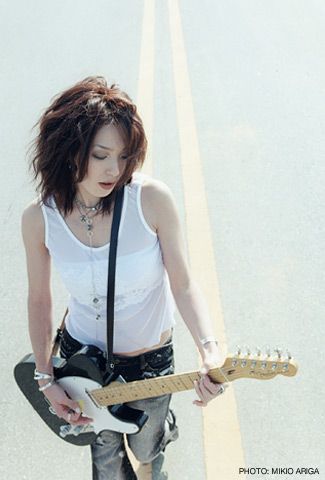 Biography



Aya was born in Hokkaido, the northernmost island of Japan, in a small town with a population of 2000. After hearing the electric guitar for the first time at a Venture's concert in primary school, she became obsessed with punk and hard rock music. She began playing the electric guitar during her junior high school years, and even joined an all girl rock band that played covers of Sex Pistols songs and the like.

At the age of 15 Aya, feeling bored and having few friends, dropped out of school. It was soon after this that she heard the album that would change her life forever, Nirvana's Nevermind. She left home and eventually ended up in Tokyo singing in bars to make a living. It was at this point in her life that she was invited to sing at pop vocal concert, which she won.

Unfortunately right before her band's debut, her songwriter suddenly passed away. Feeling that her luck has run out, Aya thought about giving up her dream of becoming a professional artist. However, she perservered and found out that songwriting came easily to her. The first song she wrote was her debut, Hands.

Working on her demo tracks took up a lot of her time, but she managed to perfect her musical skills by performing on American army bases and on the streets of Shibuya. By the time she finally was signed to BMG Japan, she had over 30 songs under her belt, each one ready for production. Aya arranges and plays guitar, bass, drum (machine) with various effects and harmonies using an 8-track multi tape recorder - all by herself.

She was later picked up by American rock producer, Adam Kasper, who was greatly impressed with Aya's demo tapes and set her up with the perfect band, made up of some of Seattle's top musicians. She even got to work with one of her idols, Krist Novoselic, the bass player from Nirvana. They worked to create her debut album, A Flower In The Battlefield.

It was a big hit among Japanese rock circles, upon it's release and after promoting the album with live shows instead of major press, Aya was asked to perform at the "Summer Sonic Festival"- one of Japan's biggest rock festivals. Soon after she was opening for Japanese rocker Eikichi Yazawa's 30th anniversary stadium gigs.

In early 2003, in an attempt to prove herself as an artist and feeling uncomfortable having two bands, (One for recording, one for live gigs.) Aya dropped her Seattle band and went with her stage band that had been with her from her debut. They released the mini album The Forbidden Songs which had a tighter rock feel and helped her gain a larger fanbase in Japan.

She then set to work on her second album, Baghdad Sky. Released in summer 2004, this is her best album to date. It's an amazing mix of fast tempo rock songs and slower acoustic ballads, that truly shows her talent as a musician.



Discography





April 25, 2001 1st Maxi single "Hands"
(includes 3 tracks)



July 25, 2001 2nd Maxi single "Crazy Mermaid"
(includes 3 tracks)



March 20 , 2002 3rd Maxi single "The Morning That I Chose My way"
(Japanese Version / includes 3 tracks)
*Japanese title "Sentaku-No Asa"



April 24, 2002 1st Album "A Flower In The Battlefield"
(Includes 11 tracks)
*Japanese title "Senjyo- No Hana"




March 26,2003 Mini album "The Forbidden Song"
(Includes 7 tracks)
*Japanese Title "Kinjirareta Uta"




October 14,2003 Limited Edition CD "Aya Bitch Project"
(Includes 3 tracks)



June 9,2004 2nd Album "Baghdad Sky"
(Includes 10 tracks)

[MU] Three tracks from Baghdad Sky

NOBODY

Shadows On The Road

Betty



Links



Official Website - http://www.bmgrock.com/aya/

English Fansite - http://aya.shiroi-hana.net/

Wikki Page - http://wiki.theppn.org/AYA



Pictures of Aya:






Aya also has an amazing gallery of artwork up at her official website that I would recommend you look at. She has some awesome drawings in there, that I'm sure some of you would enjoy.